Forget the aggravation, the pain, and the knotted up hassle of conventional cargo bungee cords and ratchet straps. There is a better solution, and we found it!
by the OutsideDaily staff
Have you ever busted your knuckles or had your faced slapped while securing gear with bungee cords or those thick, rubber tie-down straps? Yep, so have we. The alternative has been to use ratchet straps, which are impractical for small jobs and often a hassle to adjust. The other problem with ratchet straps is that they seem to come in only two varieties—super-duty or outright junk.
If you've been there, trying to secure coolers, kayaks, fishing rods, and assorted gear to your vehicle, you know exactly what we're talking about. You can also appreciate this new product we came across that effectively solves the problem we all have with bungee cords and ratchet straps.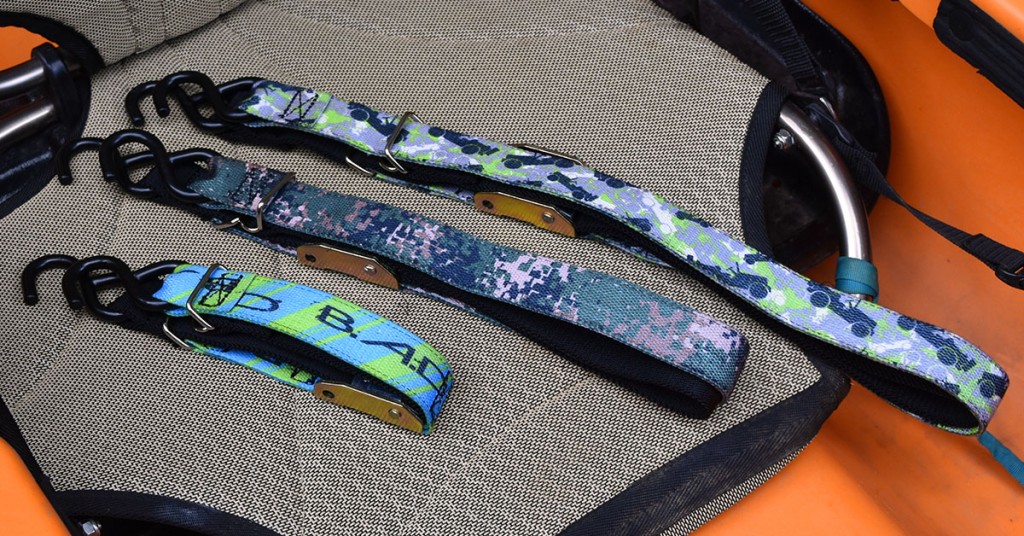 It's called the Just Adjust Strap, and it fits that happy middle ground between those finger-ripping, face-smacking bungees and the bulky, aggravating ratchets. The Just Adjust Strap is unique in the marketplace because it combines both the security of a ratchet strap with the variable tension properties of a bungee strap. The best part is that it is also easy to adjust for your load requirements, and is safe to unload when you're finished transporting your gear.
The Just Adjust Straps come in three different lengths to meet your varying cargo hold-down needs: 2-ft., 4-ft., and 6-ft. These lengths cover everything from securing rods and paddles to your kayak hull to cinching down your small watercraft or SUP to your trailer or truck bed. And lest you think the "beef" isn't there, the Just Adjust Straps boast a 1,200-lb. maximum recommended work load capacity.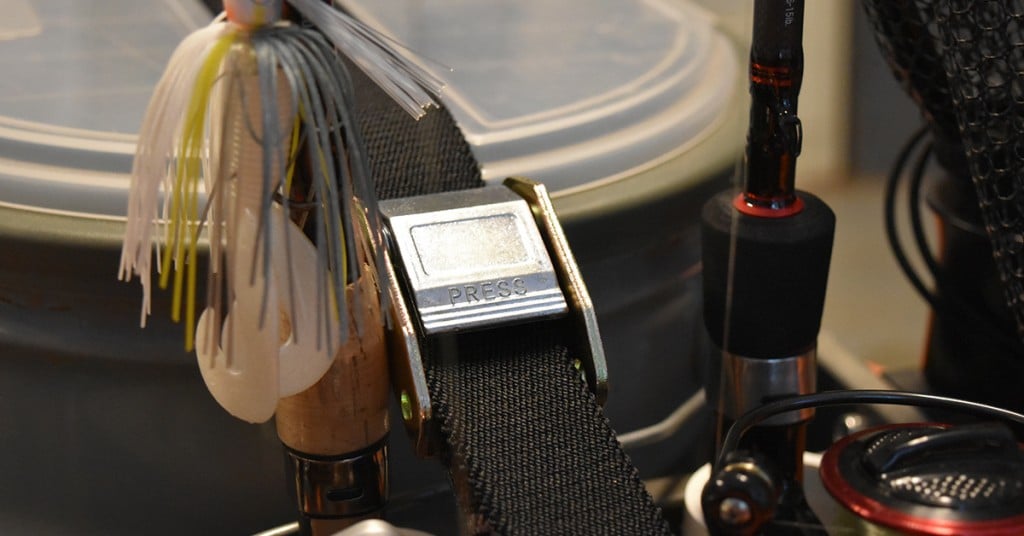 The Just Adjust Straps are comprised of two separate polyester web straps, both of which are abrasion-resistant, so the straps are not only protected, they also protect your cargo. One strap is made of heavy-duty military grade elastic webbing that provides the quick adjustability and tension. What's neat about this elastic webbing is that it will only stretch so far before it hits "the wall." This limited stretch capacity provides two important functions. First, it won't overstretch and lose its elasticity over time. Second, it allows for a slight "give" to protect surface finishes and structural integrity when your cargo is snugly cinched down, yet the cargo will remain secure even under harsh bounces and jolts. You can't get either of those functions combined in a bungee or ratchet strap.

The other half of the strap is also made of heavy-duty webbing with triple-stitching, but it does not stretch. This is the strap that secures the cam-lock buckle used to release and lock down the elastic webbing once you've made your adjustments.
The buckle is of a robust design, and includes a stout spring that helps lock the elastic strap solidly in place. Simply pressing on the buckle's locking plate lets you tighten the strap or release it with ease. No more pulling and risking digits and eyeballs to undo bungee straps. That benefit alone is worth the cost to us.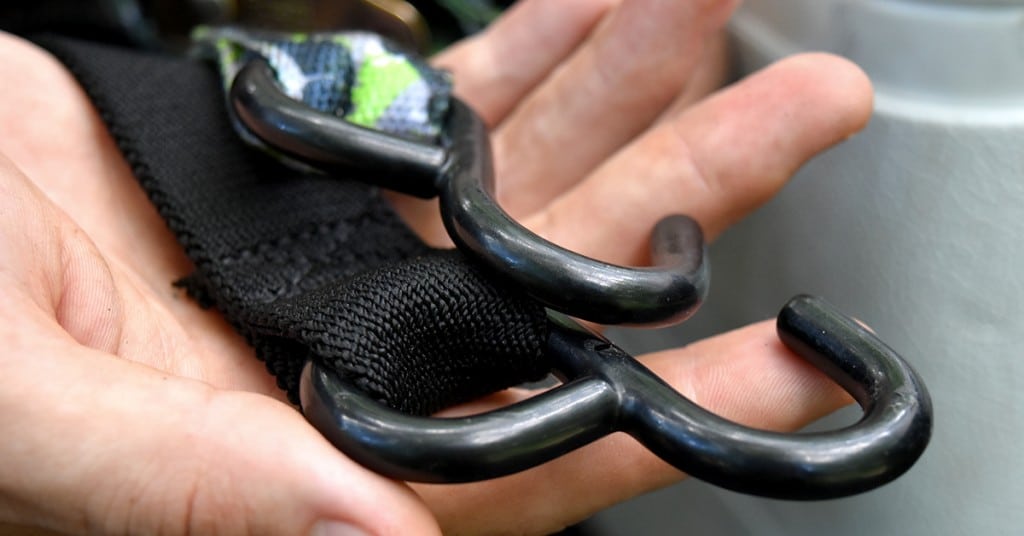 To secure your cargo to your truck, ATV, motorcycle, or kayak, the Just Adjust Strap utilizes two heavy-duty S-hooks. These hooks are vinyl coated so they won't scratch or mar plastic, fiberglass, or metal.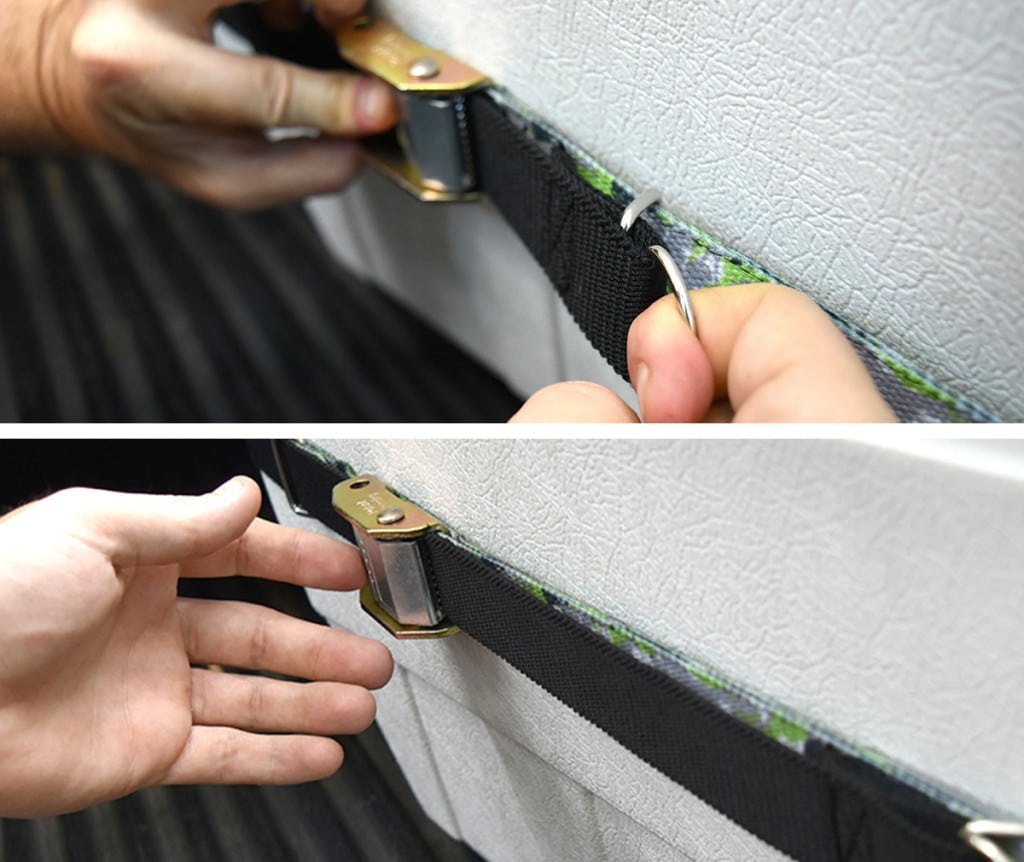 The other thing we like about the Just Adjust straps is that they are fool-proof. The locking cam buckle, as mentioned, is straightforward to use. Two steel guide rings sewn into the strap help keep the two straps neat and aligned so there is no tangled mess like you get with ratchet straps. Finally, there is a large D-ring sewn into the "pull" end of the elastic strap to assist in getting the tension just right.
Because of the type and construction of the polyester webbing, the Just Adjust Straps exhibit exceptional wear-resistance over time, and will not suffer from typical exposure to environmental nasties like water, UV light, salt, sand, mud, and the like. Choose between red, green, or pink proprietary sublimated dye graphics for long-lived vibrancy and color coordination with your outdoor gear.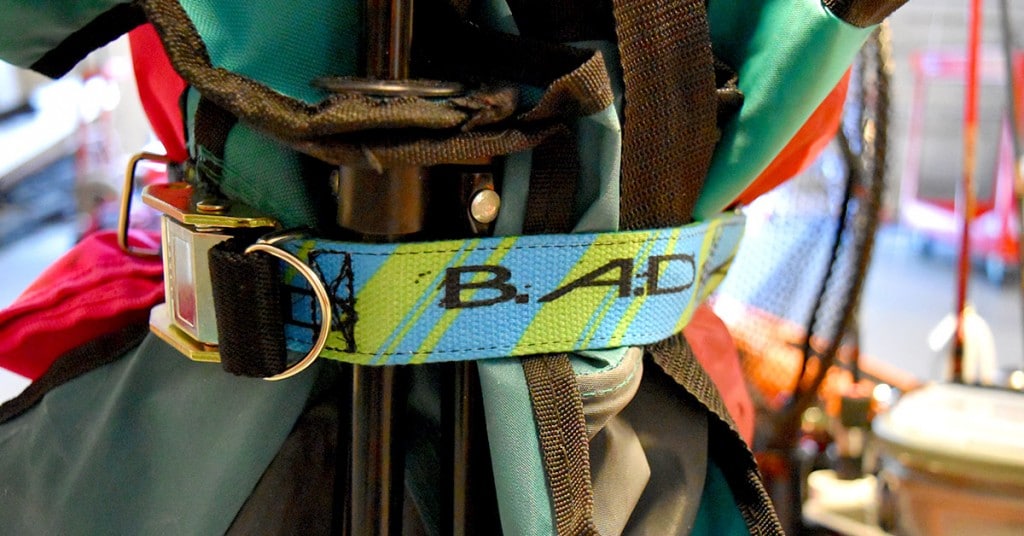 Just Adjust Straps are relatively new to the marketplace. They have been available in California and other western states for a while, but are just now becoming available throughout the U.S. If your local sporting goods retailer or watersports dealer isn't stocking them, you can purchase Just Adjust Straps direct from the factory. We did, and we couldn't be happier.